Awesome Con has been an active cosplay convention from the start, and this year was no exception. Everywhere I looked there was another cool costume. Plus, now that I've started meeting and getting to know a number of cosplayers in the Washington, DC area, I was extra excited to see in person the costumes that friends had been working on.
Without further ado, on to the photos!
Friday
Harley and Joker (Front Royal Joker and Harley)

Wonder Woman (Ana B)

Black Widow (Becki)

Aquaman

Black Canary

DC Comics Bombshells Mera

Nightwing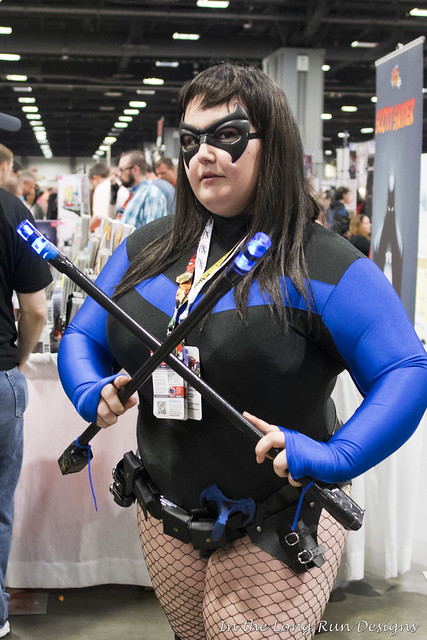 Ruby Rhod

Left Shark (Kevin)

Batman

The Flash

We found another Rockford Peach! This was the first time that had happened, and it was the third time I wore this costume to Awesome Con!

Claire Fraser (Mama B)

Bitch Planet

Dark Phoneix (Jazmine)

Robin (Andrew)

Elsa (Sara)

A father and son family portrait!

Doctor Strange

Love this take on Ursula (McKenna)

Squirrel Girl

Me with Gaston and Belle

This Beast cosplayer offered me a rose!

Me with my friend Jennifer as Wonder Woman

Yondu (Jon)

D.Va (Laura), Soldier: 76 (Rachel), Harley Quinn (Nico), and a Destiny Hunter (Anth)

Judy Hopps and Nick Wilde

An Imperial Officer

Loved this Nintendo Switch idea!

Agent Carter

A Rebel Soldier

Rey

Eddie Valiant (Iggy) and Jessica Rabbit (Evil Queen Jacky)

This was such an awesome idea for a group cosplay! (Featuring Michael)

Black Canary

Willy Wonka

The Flash

Captain America

Andrew rocking his Star Wars: The Old Republic Hero of Tython cosplay

Ms. Marvel

Huntress (Canary Cry Cosplay)

Squirrel Girl

Bodhi Rook (JK) and Aladdin (Carmella)

I haven't seen a Big Lebowski cosplay in person before!

Belle (Reece)

Belle (Feara Winters)

A big thank you to all of the cosplayers that we photographed!